In 4 steps from the carbon or glass fibre to the finished component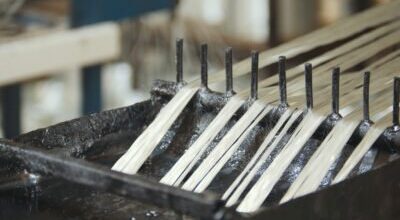 Fibrous composites are widely used in various industries. The areas of application are extensive and range from automotive and aviation through wind turbines and sports equipment to the construction industry.

Step 1: Extraction of the raw materials
Extraction of the raw materials: The raw material of fibres for fibre composites is usually carbon (for carbon fibres) or glass (for glass fibres). Currently, the carbon is extracted from crude oil, whereas glass is composed of several raw materials (silica sand, lime etc.) depending on the property [1], [2].
Step 2: Manufacturing fibres and yarns
For the production of carbon fibres, the raw material polyacrylonitrile (PAN) is processed in several process steps with different temperature and pressure ratios (carbonisation and graphitisation). This results in fibres of almost pure carbon. Glass fibres are produced by melting the raw materials. The molten glass is passed through fine nozzles to produce fine glass fibres. Then, for both carbon and glass fibres, the individual fibres are combined into several bundles (rovings) and wound onto bobbins [1].
Step 3: Production of fibrous semi-finished products
For the production of mat-shaped reinforcements, the rovings are processed in textile technology processes and impregnated with a plastic matrix. For the production of fibrous fabrics and nonwovens, the fibres are laid out in different directions to each other and fixed with the help of a warp thread according to specific, predefined patterns. By adding a hardener and heating, flat scrims or fabrics are created, which are then cut to the corresponding width and rolled up [1].
In contrast, bar-shaped reinforcements are manufactured using the strand drawing process or by so-called pultrusion. In this process, individual bundles containing fibres are directly combined into bars and impregnated with resins or thermoplastics. It is common to profile the bars by milling for better adhesion or to apply ribs to the bars [2].
Step 4: Manufacturing of components made of fibre composite materials
In the construction industry, new components of the carbon or textile concrete construction method can be manufactured in precast concrete plants with the mat- or bar-shaped structures. If existing steel reinforced concrete structures are strengthened or repaired with carbon or textile concrete, this takes place on-site, directly on the construction site [3],[4].
In other industries, components (rotor blades, tennis rackets etc.) are manufactured from flat fabric, for example, by means of the preforming or wet pressing processes in the surface and shaping. Mechanical finishing gives the hardened fibrous components their final contours, bore holes and cut-outs [5].
Conclusion
The use of such a high-performance and at the same time energy-intensive product makes it all the more important to return the valuable raw materials to the material cycle at the end of their useful life or to transfer them to new fields of application. This results in diverse opportunities to participate in new value chains.
As of 2021-06-21
List of references
[1] Schürmann H., Konstruieren mit Faser-Kunststoff-Verbunden: mit 39 Tabellen, 2., bearb. und erw. Aufl. 2007, S. 27-42, S. 83-128, S. 137-158. DOI: https://doi.org/10.1007/978-3-658-02755-1
.
[2] Mathes V., Witten E. und AVK, Industrievereinigung Verstärkte Kunststoffe, Handbuch Faserverbundkunststoffe/Composites: Grundlagen, Verarbeitung, Anwendungen, 4. Aufl., 2014, S. 378-390, DOI: https://doi.org/10.1007/978-3-658-02755-1
.
[3] Kirsten M., Freudenberg C. und Cherif C., Carbonfasern, der Werkstoff des 21. Jahrhunderts: Textile Ausgangsbasis für filigrane hochtragende Betonbauteile, in Beton- und Stahlbetonbau 110/Nr. S1, 2015, S. 8-15, DOI: https://doi.org/10.1002/best.201400105
.
[4]  Scheerer S., Schladitz F. und Curbach M., Textile reinforced Concrete – From the idea to a high performance material, in Brameshuber, Wolfgang (Hrsg.): Proceedings of the FERRO-11 and 3rd ICTRC in Aachen, 2015.
[5]  Mathes V., Witten E. und AVK, Industrievereinigung Verstärkte Kunststoffe, Handbuch Faserverbundkunststoffe/Composites: Grundlagen, Verarbeitung, Anwendungen, 4. Aufl., 2014, S. 311-346, S. 502-536.
Be part of the alliance and join us in facing the challenges with regard to the no longer avoidable handling of fiber composites. Let us together lead the region "Elbe Valley Saxony" into an economically resilient future.